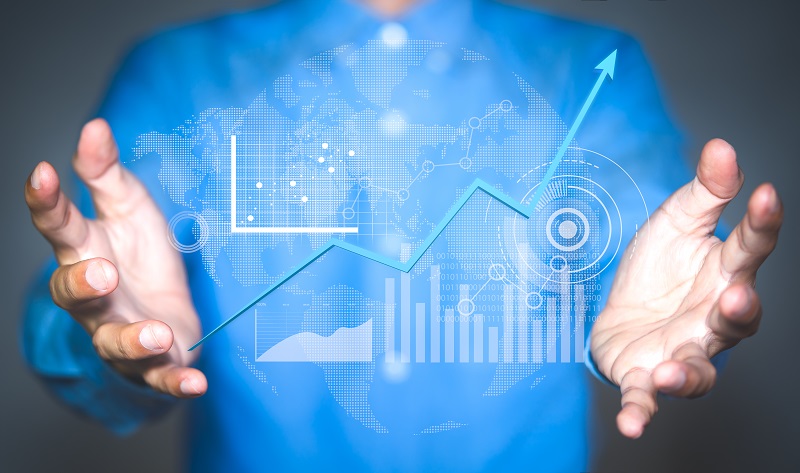 With digital transformation firmly on the business agenda, South African executives are beginning to recognise the immense value of Big Data. The current business ecosystem, both locally and abroad, is characterised by disruption – and companies have to become increasingly agile and responsive in order to survive. To meet this challenge, forward-thinking business leaders are looking to Business Intelligence (BI) tools to harness Big Data and gain critical competitive advantage. Those who choose to overlook the insights and opportunities that data can provide run a huge risk of losing relevance in their respective industry or sector.
Indeed, some of the world's most influential companies are relying on BI to keep them ahead of market rivals – and to provide unparalleled customer service. Take Amazon, for example. Amazon leverages BI to personalize product recommendations and to market products. (Any frequent user of Amazon's e-commerce portals would already have benefitted from this capability).
Companies are also harnessing BI to improve internal efficiencies. For example, Coca-Cola's business intelligence team handles reporting for all sales and delivery operations at the company. Using their BI platform, this team automated manual reporting processes at Coca-Cola, saving over 260 hours a year (more than six 40-hour work weeks).
Multinational package delivery and supply chain management company UPS ships more than four billion items annually using 100 000 vehicles. While it leverages BI in several ways, one of its most significant approaches entails extracting insights for fleet optimization. Combining on-track telematics with a BI solution enables the business to improve routes, reduce engine idle times, and even manage predictive maintenance on its vehicles.
From a customer data perspective, BI can help retailers with targeted marketing and other campaigns. The largest supermarket and grocery store chain in Australia invested heavily in analyzing consumer spending habits and improving online sales using BI. Extracting insights from its wealth of customer data, the retailer has been able to more effectively gauge product interest and customize campaigns accordingly.
More data inputs, more opportunity
Locally, as the Internet of Things (IoT) grows and develops, businesses are gaining access to more data sources. The IDC expects the global market for the Internet of Things to grow to $3 trillion by 2020, with around 30 billion connected devices expected in 2020. This figure is projected to grow to 100 billion in 2025. While there are no precise stats available around connected devices and IoT in SA, market analysts are predicting rapid growth in local IoT rollouts.
By definition, IoT networks create multiple connected data sources – and Data Science indicates that more data points provide better, more granular insights. With emerging IoT networks thus providing a higher number of data inputs, local businesses are gaining the opportunity to work with larger sets of data.
Applying AI to Business Intelligence
Another tool used when working with Big Data is artificial intelligence (AI). Essentially, AI uses computer systems to mimic various attributes of human intelligence. This can include everything from problem-solving, learning, and judgment. In recent years, many organisations have used AI to improve operations and deliver better customer experience.
These implementations can range from the extreme to the more traditional. Take IBM's Chef Watson, for example. At face value, a user submits the ingredients they already have at home, and the chef can create a recipe based on that. However, behind the scenes, it uses AI to analyse data and overlay scientific information to put the machine-generated recipe on par with what the best chefs in the world would do.
For its part, global energy organization BP applies AI to improve the safety and reliability of oil and gas production and refining. It uses sensors to relay the conditions at each site and improves operations by introducing an AI layer on top of its data to help scientists, engineers, and managers make more effective decisions.
Notably, Microsoft is using AI in conjunction with BI tools to study land-user patterns with terrain maps. This enables the company to build a digital dashboard that lets people monitor, model and manage environmental systems at a scale previously not possible. With this technology, governments, organizations, and researchers can make better decisions around how to most effectively deploy conservation efforts.
Extracting the gold
Given the risks and complexity involved, businesses have to work with data analytics professionals and specialists in order to extract real value. In addition, with the technology and science behind Business Intelligence developing at a furiously fast pace, working with an experienced specialist enables businesses to stay up to date with developments – and also to remain compliant from a data security perspective.
Beyond ensuring data security, the right specialist will also look to fully understand the nature of the business in question (pain points, skill sets, market opportunities, etc.) in order to align the BI strategy and provide maximum business value.
In data we trust
As with any new strategy or business initiative, harnessing Big Data and BI effectively not only requires the right partner, but also the right mindset. Openness to new insights and change must come from the highest levels of business leadership and management.
On a practical level, when approaching the reporting requirements associated with BI it is important to mimic the reports that the business currently bases its decisions on. Then, once an element of continuity has been achieved, a foundation of trust is formed because the data that you see 'can be believed'. This is a vital step, as the right data can expose or highlight areas of the business or internal processes that require a hard look. However, the 'light bulb' moment or realisation only occurs when you really trust the source of the information.
With a sluggish economy making organic growth almost impossible to achieve, business leaders have to embrace every facet of digital transformation to remain relevant.